2017 Musical Event "KIDS Helping KIDS"
March 4, 2017 @ 5:00 pm

-

9:00 pm
Anuraag Foundation is presenting a Spectacular Multi-media show  "Kids Helping Kids "  in association with local talented Kid artists on
Saturday, March 4th at 7pm 
at HSNC Main Hall, Morrisville
"Kids Helping Kids" is an unique show that combines video effects, lights and sound along with singing, dancing, drama and comedy.
Note: (please contact 919-802-0430 if your kids would like to show case their talent at the event)
We request you all to join us for an Evening of Music and Dance and make it a grand success. Please spread the word to your friends and acquaintances..
All the proceeds will benefit "Anuraag School for Mentally Challenged" in Secunderabad, India.
Tickets: 
Adult:  Preferred Seating: $30 or $20
          General Seating:   $10
Kids (under 12): Free
Buy Tickets Online at Sulekha.com at no extra cost .
or  Call 919-802-0336
Tickets are available at Apna Bazar or Triangle Indian Market.
Dinner 
Available for purchase at nominal price (6pm onwards)
Child Care:  
          Free Child Care available & Free Pizza for Kids
SPONSORS and Ads:  
Please Visit Face book Page:  https://www.facebook.com/events/636879996520861/
Your support to this noble cause is very much appreciated.
If you need more information or have questions, Please give me a call on my cell 919-802-0336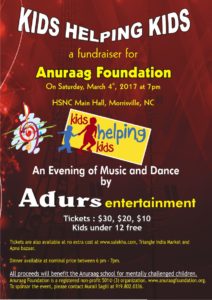 ​